I was so excited to go to this park as I had not gone before. A lot of areas are closed or walled off sadly. There isn't much to do. I had high expectations and they just were not met. This park is a giant fall from both Magic Kingdom and Animal Kingdom. If there is any landmark at the entrance of this park I missed it. You do get an obstructed view of the Chinese Theater, which was blocked by "what?" you guessed it…a wall. 
It's a shell of a theme park, one which you can tell was in its prime/peak around the early 90s. As of the time of our visit August 2018, the park seems to be going through a bit of an identity crisis (hence the title of this post). The park is not cohesive at all nor does it have a flow like the other parks, Magic Kingdom and Animal Kingdom. I felt like we just got there too late. Nonetheless we still had a good time and enjoyed what's left of the place. 
We're not big fans of Star Wars but from what we could see from Toy Story Land it looks like it's going to be amazing. I would rather see Disney capitalize on the Pixar movies there are so many. The Pixar characters are absent which was odd to me since aside from The Incredibles there are close to none in Magic Kingdom. The Pixar crew is almost banished like illegitimate children of Disney. They have no visibility in this park anymore, we noticed the former Pixar Place was closed and walled off while en route to Toy Story Land. Yes, another wall!
Toy Story Land was a big hit with our kids. When you enter there is a larger than life size Woody Doll that talks and welcomes you to the park. Shortly thereafter we saw Buzz Lightyear available for pictures and autographs.
That's the essence that Disney needs to capture again with this park! Toy Story Land is so well thought out so much so that you wish it was larger with more to offer. The key is in the details like all of the different toys scattered about to make an imaginative backyard carnival themed park created by Andy. It's definitely like walking around the backyard of a kid at play. The seating at the restaurant with the tinker toys and flexible straws. I loved how the green army soldiers march around the land in a parade and how great they are at staying in character! One woman thought she would get a picture with them but they hurried along, on an important mission of course.  
Slinky Dog Dash was also a hit with 2 out of our 3 kids, our 2 year old was too young to ride. But the details of the drawings made by Andy including the blue prints for the coaster, his drawings and handwriting, on the walls at the ride dispatch area, all child like. There are toys everywhere in the que for Toy Story mania there are toys scattered everywhere board games and cards like Uno mostly. Mr. Potato head was curtained off and not operating at the time. However, he was larger than life size. I sincerely hope that they have plans to expand Toy Story Land especially with another movie coming I am sure there are other rides, attractions and restaurants that the imagineers can think of and create. 
As far as the classics that do remain as park staples, our kids aren't ready for Rockin' Roller Coaster so we had to pass. Tower of Terror is still worth the wait! We were able to get our daughter on but our oldest son was scared and not ready. So he passed, the tall ominous hotel tower and creepy "bell hops" at the beginning of the que were enough to scare him without even visiting the interior of the old dusty hotel covered in cobwebs. Tower of Terror is a classic. If you're a first timer it's easy to get caught up into the eeriness of the old dank hotel covered in cobwebs and sucked into the story line. It brought back memories of my father and how much he liked The Twilight Zone. I could hear his voice recanting his favorite episode as scenes from it flashed in my mind "That's not fair…that's not fair" as a man stares at his broken glasses. A different episode but it goes to show you never know what will trigger a memory just like that. The dips and drops of the elevator are thrilling enough to give a bit of a scare but not over done but my daughter was pretty scared. The look on her face in the picture captured she was giving me the meanest side eye while I had a cheesy grin…that screamed "Got her!".
The Muppet Vision theater, our kids liked it but its dated some parts they could not relate to in the comedy. They lost interest in the "3 D" goggles which were too loose midway through since they found them uncomfortable. As you exit the Muppet Theater, the New York streets are obstructed by another wall and not much of the block remains but a sad corner and dead end to what I have read and researched was once "The Streets of America". You hope for more to see but as you meander along you're cordoned off by yet another towering wood plank wall/ gate. Then, you realize there is nothing left to see other than the construction of the monumental Star Wars structures. Pizza Rizzo smells amazing though as you exit the Muppet Theater and the pizza looks great! But we ended up having lunch at ABC Commissary. On the way to lunch we noticed the Chinese Theater was closed, and never opened at all not once that day. I admired the building but was disappointed at yet another closed attraction! Apparently it was home to an older attraction and a Mickey an Minnie runaway train movie is in the works. I was skeptical. 
I know there are many who are awaiting this opening with high expectations and I will say once again the construction that was up thus far was quite impressive. However, I still found it extremely disturbing that the park was almost completely overrun with Star Wars. And I mean OVERRUN! After you leave the Rocking Roller Coaster, Tower of Terror and Toy Story Land areas you start to feel like IT'S EVERYWHERE! Perhaps it's just a marketing strategy to build hype for the upcoming land.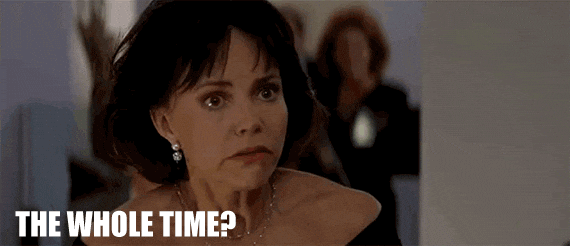 But instead of the WHOLE TIME I'm screaming THE WHOLE PARK! 
The park makes for a good half day trip but don't plan to make a whole day of it.  This park is a good option for the Park Hopper ticket option for that reason. On the plus side this park is very light in traffic in comparison to the other parks. It's practically empty. It seems as though it clears heavily by mid day to early afternoon. Likewise we left the park by afternoon.
As we were leaving and going past Echo Lake the one last remnant of my own childhood left was a view of Baby Herman, Jessica Rabbit and Roger Rabbit on a billboard. It was almost hidden. I thought to myself…We were just too late…
Attractions are always swapped out it's a given, but the one I really regret missing was the Honey I Shrunk The Kids movie set park. My sister, brother and I would watch that one on repeat growing up. My younger sister and brother would yell out over and over "I want to watch Honey I STRUNK the kids!" Unable to pronounce "Shr" as toddlers. Memories. I think that's what makes Magic Kingdom more successful is paying homage to the nostalgia while triggering childhood memories of the parents and new ones for the kids. Perhaps Disney should consider a name change to mitigate the confusion as not much of old Hollywood remains and leave the name to only the quarter of the park where the Tower is located. I know my voice probably won't stand out but I think whomever is responsible for what has happened to this park should be FIRED! Do not pass go, do not collect. Why? Because they are clearly gambling with the house money.
Word on the street is Toy Story Land faced budget cuts with a whole section removed. I can believe it as you look at what's looming next door. Again, gambling with the house money or should I say MOUSE money. Someone in some board room probably argued but this is the future not realizing what really makes the park(s) tick with millions every year! And it's not Star Wars.    
Aside from Tower of Terror the only thing worth the visit for us was Toy Story Land. My advice is to wait until the Star Wars construction is well over. Lots of areas of interest are closed or close early. There was construction everywhere including the parking lot, we couldn't tell if perhaps a roller coaster is being built the spans out to the parking lot. The reviews for this park that can be found on my other hangout Trip Advisor where further reviews are also very mixed and widely so. The majority lean more towards similar sentiments and issues I have shared in my account here. It's still a very beautiful park and I hope they get it together between 2019 and 2020.